Mega-prints has had the privilege of working with many of the Valley's most prestigious and high profile Businesses since 1998. We print and install custom designed signs for businesses of all types and sizes from yard signs to banners to wallpaper and fleet graphics. With cutting edge digital printers and graphic designs, Mega-prints has the state of the art capability to develop client's conceptual vision into a reality. Our sales staff, design department and skilled installers work together to ensure that our customer's vision is achieved.
Our Services
Digital Printing provides the greatest visual impact for an audience in a small or large vicinity. From POP signs, banners and wallpaper to Fleet vehicle graphics, Mega-prints stands at the forefront of design and print capabilities in the Central San Joaquin Valley. Our digitally printed projects can be seen through out Fresno and the surrounding communities.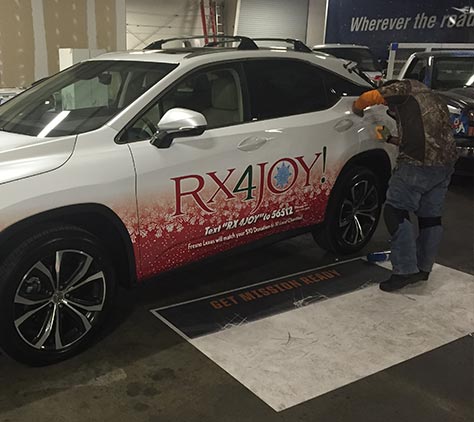 Vehicle Wraps
Did you know that the average vehicle wrap receives up to 5,000 impressions per day? It's time to maximize your market exposure with a full, half, or partial vehicle wrap. At Mega-Prints, your premier 3M-certified print shop, we specialize in designing, printing, and installing with the highest quality 3M inks and vinyl. With over 20 years of experience in wrapping cars, trucks, vans, buses, and RVs, we can help turn your vehicle into a mobile marketing piece.
Banners
Turn heads with banner advertising. Promote your brand name, business, or message through our most popular signage format. Here at Mega-Prints, we produce all banners in varying levels of thickness on a PVC banner material using 3M latex inks. Whether you want a large banner for the front of your building or a small banner for a social or family event, we can produce what you need in different sizes and through different applications.
POP Displays
We don't say they "pop" for no reason! Bring the Red Carpet quality to your event with a hop-up display or a Step & Repeat banner. Cast against your customized backdrop, your guests will feel like Hollywood celebrities while you showcase your product or service at an unforgettable event.
Wallpaper
Bring an empty wall to life with custom-printed wallpaper. We customize wall murals to fit each customer's wall size and specific requirements. Choose your own photos, images, or designs for home, office, and retail interiors. Our most popular applications for wall murals and wallpapers include corporate offices, retail environments, exhibitions, product launches, schools, interior design, and home decoration. The possibilities are endless.
Window Graphics
Have you ever looked at a window and thought it was just missing something? At Mega-Prints, we can spice up a plain, boring window with exciting window graphics. Full window graphics or simple, contour-cut graphics allow limited visibility for outside viewers to ensure safety and security, yet still provide natural light and a show-stopping display for the average passer-by. Other options include but are not limited to clear window decals, frosted window decals, perforated window vinyl, opaque window vinyl, and static clings.
BackLit Signs
Backlit signs never sleep because they work both day and night. Direct customers to your business with an outdoor backlit sign. Come nightfall, flip the switch and brighten up the darkness so your clients can still find you. Choose from Lexan sign faces, Panaflex sign faces, or simple box lit signs for indoor purposes.
Yard Signs
Give your yard some personality with a yard sign. Typically produced on a lightweight coroplast material, yard signs can be displayed anywhere with a simple metal step stake. Promote your upcoming political campaign, advertise a room for rent, or draw attention to your weekend yard sale for a relatively low price. Order a handful, a dozen, or hundreds of signs in varying sizes that are sure to attract attention.